Editor's Note
It's finally here! Our first issue is now online and we could not be more excited to share it with you. This inaugural issue centers around the central motive of our publication, the definition of the prefix tele- : "far, far off, operating over distance." Over distance, across language and media, our expressive efforts are efficacious in unexpected ways. I invite you into the mysteries of unconscious transmission, and to witness their influence on that attempt at communication called art.
I am so grateful to our artists for their moving and thoughtful contributions and for trusting in this strange, little experiment of ours. It has been incredible to watch this process unfold and to see how each artist responds to the problem of this type of translation so uniquely. This issue features music, text, images, and video by Yanyi, Aria Aber, Celeste Byers, Sarah Kinlaw, Clayton McCracken, Kate Mohanty, Mia Pinheiro, Estefania Puerta, Nicolás Ruiz, and Rachael Uhlir, with video cover art by Joey Agresta and translation by tele- editor Misha Davidoff. Thank you all so much for giving a form and a life to this project.
I encourage you to view the issue from start to finish, seeing for yourself the ways in which each piece grows out of the last and leads into the next, to see the threads that continue and the threads that are dropped, sometimes to be picked up again, unexpectedly, further down the line. As part of the stitching or weaving together of the issue, the editors have added bits of lyric thread between each piece to carry you from one to the next.
You can read tele- in multiple ways: To see the continuous movement of the issue from its beginning to its end, scroll through the main navigation of the issue from top to bottom here; for viewing with slower connections and some mobile phones, try our more compact tab view here; and for a different experience, try our text-navigation view, which allows you to click through the lines of lyric thread in the form of a poem to see where each line will take you. In each view, click the artist's name to see a bio and statement on process. The video cover art should play automatically at the top of the page on computers, but will appear as a still image on mobile phones. To see (and hear!) the cover completely, scroll to the "back cover" at the end of the issue, to watch the video.
Alexandria Hall
Editor-in-Chief
September 2018
[LAG]
...record, delay, relay,
Hold.
a system
through distance
challenged
to listen...
[LAG]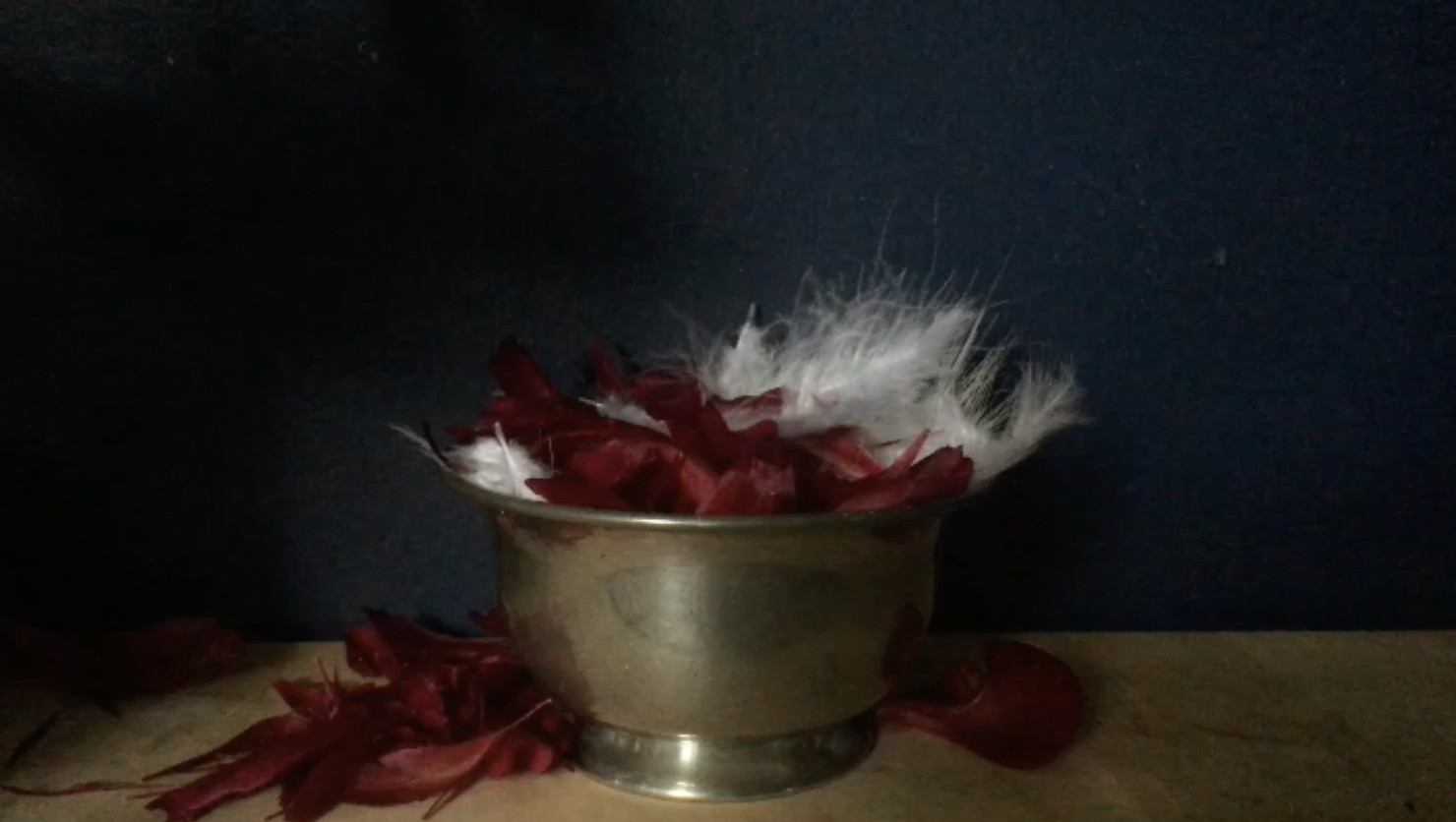 1.01 Hold
Clayton McCracken
not quite a word, a hum for sure
—the effort of some sort of understanding?
I.02 Daisies
Aria Aber
Yes or no, yes or how I loved
to skip through papery monsoons
during my youngest days, before
wild chicory moistened the soles
of my hot feet—a slit for yes,
ant hill for no. I know: the pixelated
mush of my belonging to this day
a reverberation of that game—
yes or no, yessa-no, desayuno.
Strawberries and cream. My mind
so well-suited to thrust and thrust
into all I must forget. Once, I was
at a border, inhabiting a body which I
bordered, where I fingered
daisies, graphite, molasses,
broth—there, I dreamed of home
until I coaxed non-grata
to the bridge, until until. All this life
to gather courage to own & call
a thing a name. It came
in brackets, it came brackish:
yes, I was touched. I was a child.
There's papyrus stretched across
the frame dividing the I of
then from the I of now: Oh,
I cannot save her now.
Or maybe it was cared for, once,
maybe it's recalling.
1.03 Untitled
Sarah Kinlaw
How strange it was—to see things left behind
and be glad that one was moved.
1.04 At Home in the Sky
Celeste Byers
Pencil on paper. 11" x 14".
Still, in the cruelty of the telling
the landscape is transfixed.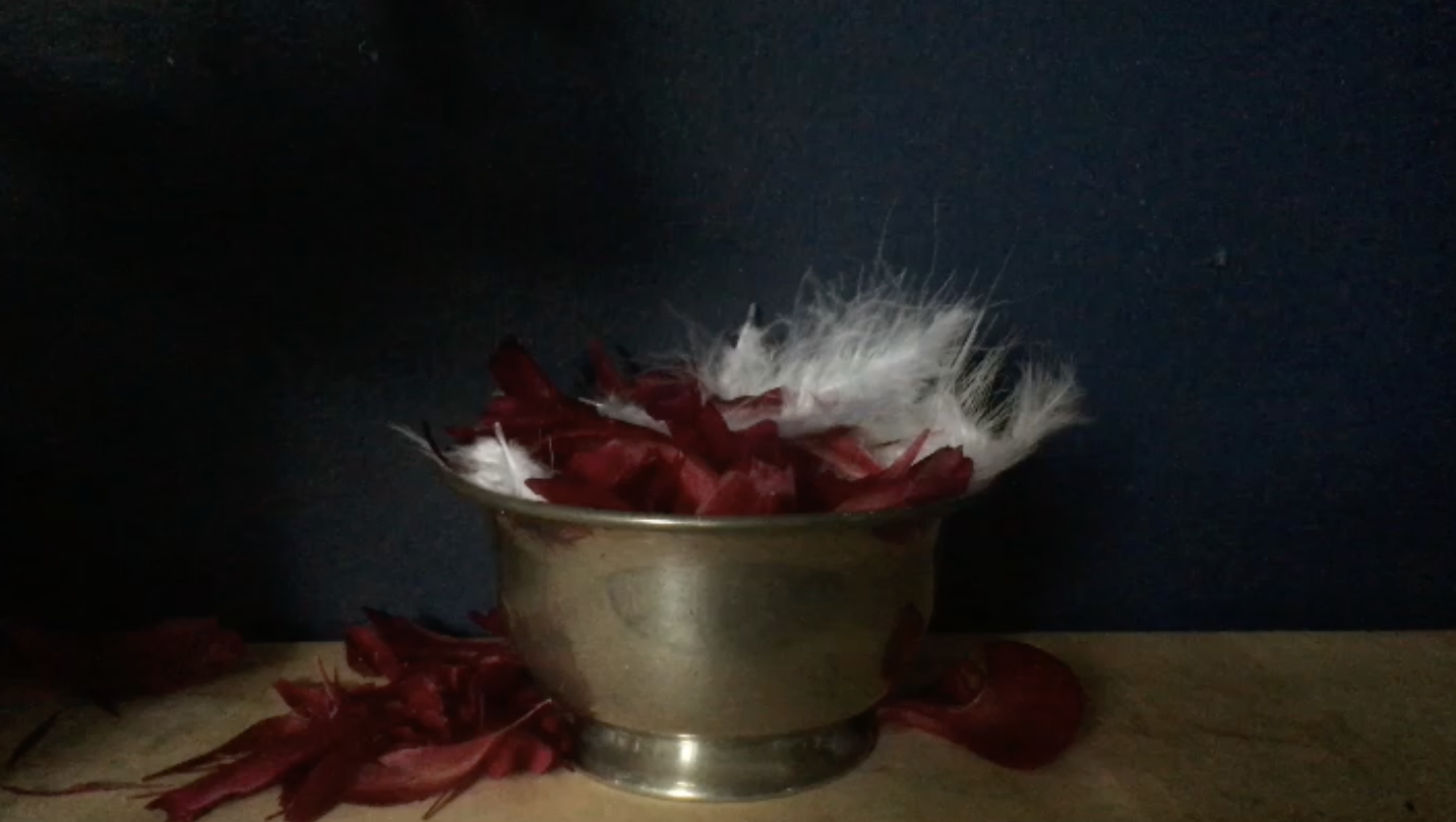 1.05 At Home in the Sky
Yanyi
Not knowing your gender, you are thrown
across eight windows, open, and I imagine
the feeling of air. Brimming in light,
your ordinary hat and arm thrusting forth
a microphone toward the sun. How do you do, sun?
Its black rods swing through the levitating logic.
I'm behind your back holding the overgrowing
darkness, lines, the chalky extent of room. Only
here: the house of knapsack with first lining
of winter. Some clothes. Peering in or peeled back,
you listen and don't want to talk. No one knows
where you live, but I do.
Prayer: that in someone else's breath
your name sound like the hand that stirred you,
that it turn out you were just tired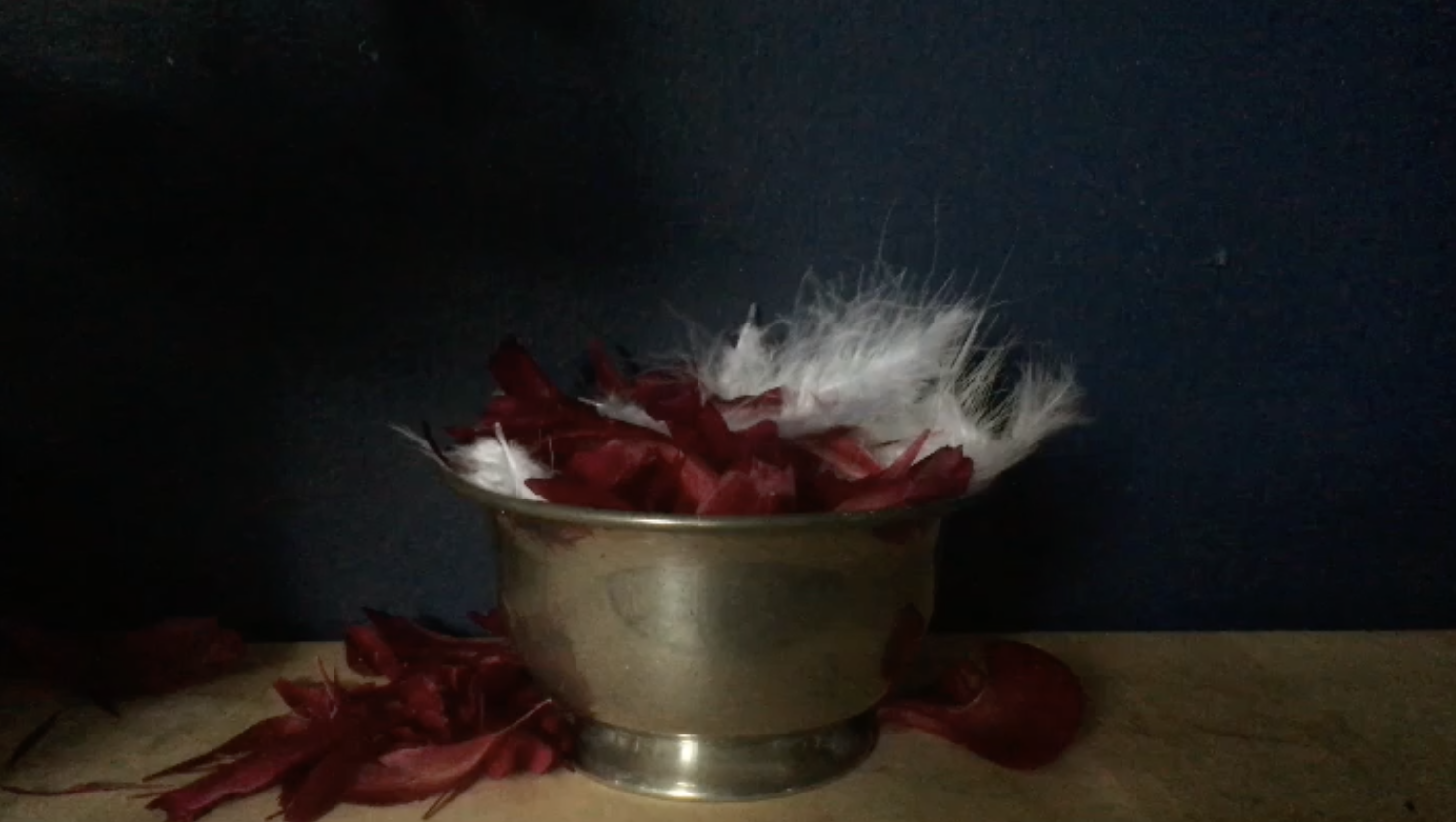 1.06 Lacerated Love
Kate Mohanty
—who wouldn't be, with feet so caked,
sand in nostrils, knees wet with loam—
that in the morning, another roll a limb,
outstretched, a limb for dipping,
ready, yawning, to receive,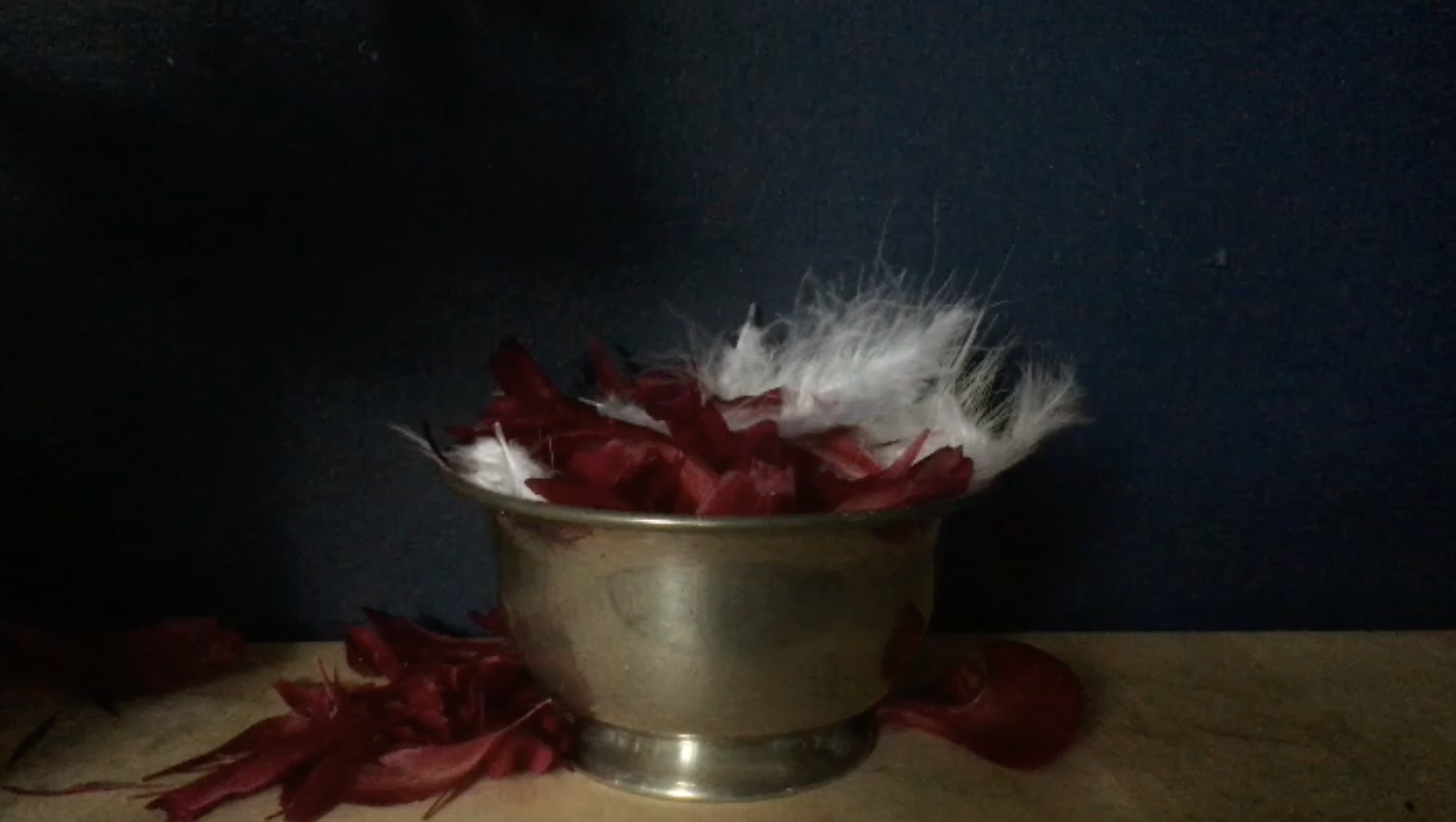 1.07 You Are Here
Mia Pinheiro
to crawl, to writhe and swallow earth,
once your body, as the foam piles up,
embeds the looking. Oh, shape-giver:
good morning :)
your lot today is horses, what
to make of their cool thrum.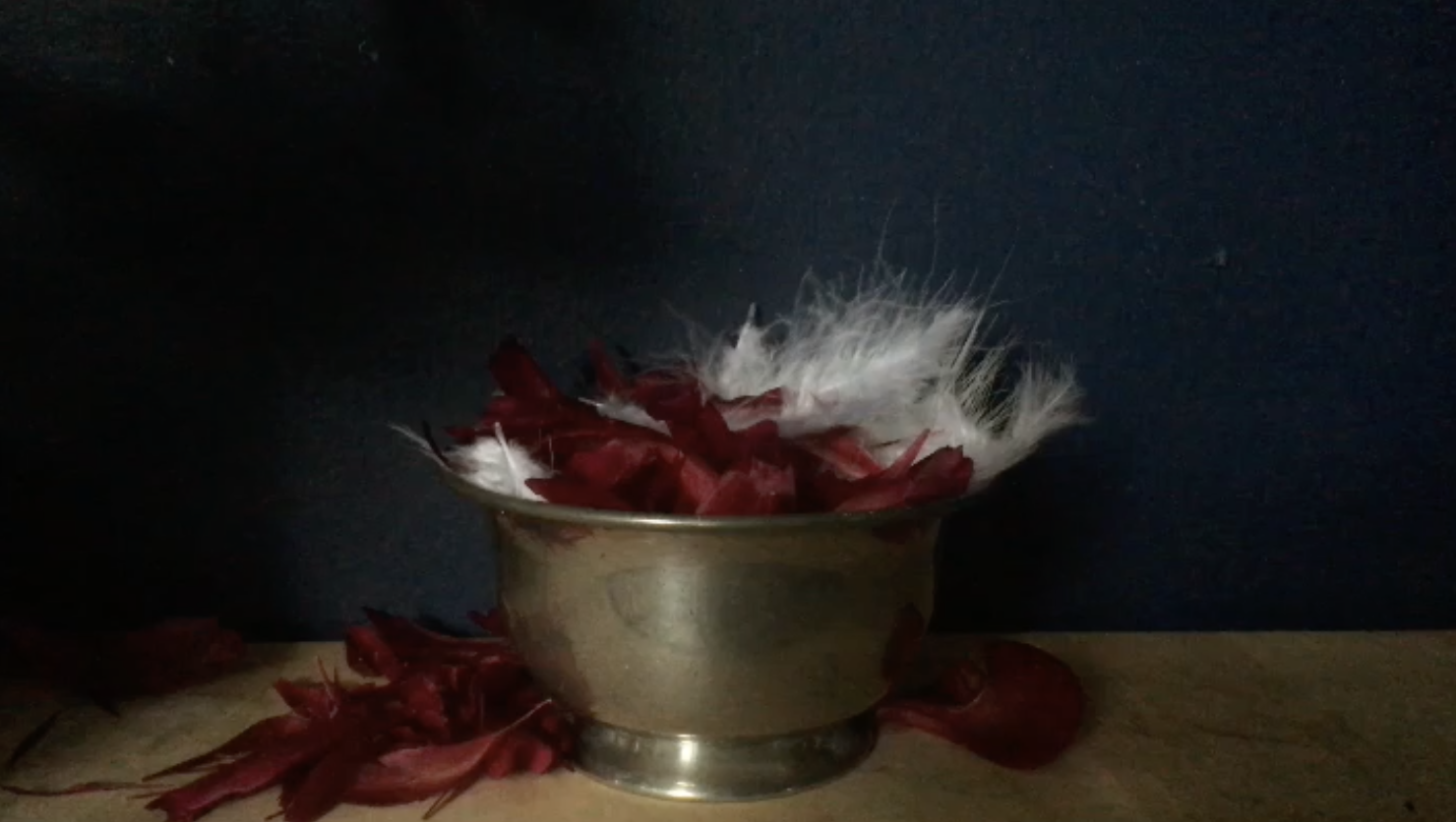 1.08 Estuve Aquí
Nicolás Ruiz
Algunas olas intentan lamer el escritorio ocupado.
La luz poco natural es de una playa lejana y nadie entiende la función de las lámparas.
El que escribe de noche está más allá de la arena y lo veo desde una distancia infinita.
Me tienta decir que eran las últimas olas de la noche pero la noche no marca las horas de las olas.
A veces pienso que las olas nocturnas son distintas a las olas del día.
Dicen que es el efecto de la luna en las mareas.
Creo que las olas nocturnas, escandalosas, se liberan de las funciones del día para
recordar cómo el mar antiguo bramaba exigiendo sacrificios.
La noche no marca las horas de las olas.
No hay primeras o últimas olas.
Las olas fueron siempre.
Cuando pasamos en medio de los mares con zapatos seguros por baños de brea
partimos las olas en figuras geométricas.
Por nosotros las olas tienen un orden y un tiempo, un marco artificial en el eterno ir y venir
de las masas torpes.
El casco de los navíos le da horas a las olas, pero nunca hubo una primera ola.
Nunca hubo, tampoco, una primera brizna de viento;
nunca hubo un primer soplo perdido en el aire cuando viajaba hacia la oreja;
nunca hubo una palabra que partió el silencio.
Cállate Adán,
¿No ves que nos estás matando?
Nosotros le dimos tiempo a las olas y al viento,
formamos marcos para ver,
transformamos ventanas para hacer mundo de las casas,
las hélices del ventilador para atrapar el poniente,
las jaulas para protegernos de la velocidad.
Torpes manos de barro que quieren levantar columnas en la lluvia;
torpes intentos que quieren cambiar los panales en miel
y los árboles en fruta.
Con cada ola que regresa, con cada velo que se levanta, con cada pliego en las sábanas
que recuerda al mar partido por navíos, me veo aquí.
Vengo de lejos escuchando el mar y la palabra del Adán que nos está matando.
La primera ola fue la primera ola que vi, la última ola será la última que vea.
¿Sabré que la veo cuando la vea?
¿Cuándo sentiré el soplo final del viento?
¿Cuándo tomarán sentido las manos que mueven el sentido?
Salgo a caminar.
La lluvia colorida corre la tinta, el camino se borra después de mis pisadas, la costa pierde
la última luz de la noche y lo que existe eternamente se olvida de mí.
Un mensaje llegó de lejos:
Atravesó la lengua,
el velo de los cerros y la lluvia de los unos,
cruzó la historia de los mares,
sintió la brisa del viento cuando empezaba su recorrido trágico,
escuchó la primera palabra que se dijo.
Un mensaje llegó de lejos y se arrastró sobre la arena,
llegó de lejos entre escritorios y navíos y las olas sin horas.
Un mensaje llegó de lejos para borrarse conmigo.
1.08 I Was Here
Nicolás Ruiz
translated by Misha Davidoff
Some waves try to lick the occupied desk.
The rather unnatural light is from a distant beach and no one understands the function of lamps.
He who writes at night is beyond the sand and I see him from an infinite distance.
It tempts me to say they were the last waves of the night, but night does not mark the hours of the waves.
Sometimes I think the nocturnal waves are different from the waves of day.
They say it's the effect of the moon on the tides.
That racket at night—it's the waves, I think—released of their daily duties, recalling how the ancient sea
bellowed, demanding sacrifices.
Night does not mark the hours of the waves.
There's no first or last wave.
The waves always were.
When we pass among the seas, securely shod, through baths of pitch, we cut the waves into
geometrical shapes.
Because of us the waves have an order and a time, an artificial frame in the eternal coming and
going of the lumbering masses.
The ship's hull gives the waves the hours, but there never was a first wave.
Never a first gust of wind, either;
never a first breath lost in the air as it traveled toward the ear;
never a word that split the silence.
Shut up Adam,
can't you see you're killing us?
We gave the waves time and the wind
we provided frames, that it may be seen;
we transformed windows, that a world may arise from houses,
the fan's blades, that we may catch the sun where it sets,
the cages, that they may shelter us from the speed.
Clumsy earthen hands that would build columns in the rain;
clumsy attempts that would change combs into honey
and trees into fruit.
With every wave that returns, with every veil that is lifted, with the sheets' every fold that recalls
the ship-parted sea, I see myself here.
From afar I come listening to the sea and the word of this Adam, who is killing us.
The first wave was the first wave I saw, and the last will be the last I see.
When I see it, will I know?
When will I feel the wind's last blow?
Where's the sense in these hands that shape sense?
I go out walking.
The variegated rain runs the ink, the path fades after my footsteps, the coast loses the last light
of the night, and what exists eternally forgets me.
A message arrived from afar:
It traversed the tongue,
the veil of sierras and the rain of ones,
crossed the history of the seas,
felt the touch of the wind when as it began its tragic rounds,
heard the first word that was said.
A message arrived from afar and pulled itself across the sand,
came from afar between desks and ships and the waves without hours.
A message came from afar, that it may dissolve with me.
how to put it somewhere, 
and what to call that place

—an egg, a hole,
or just a fishing net?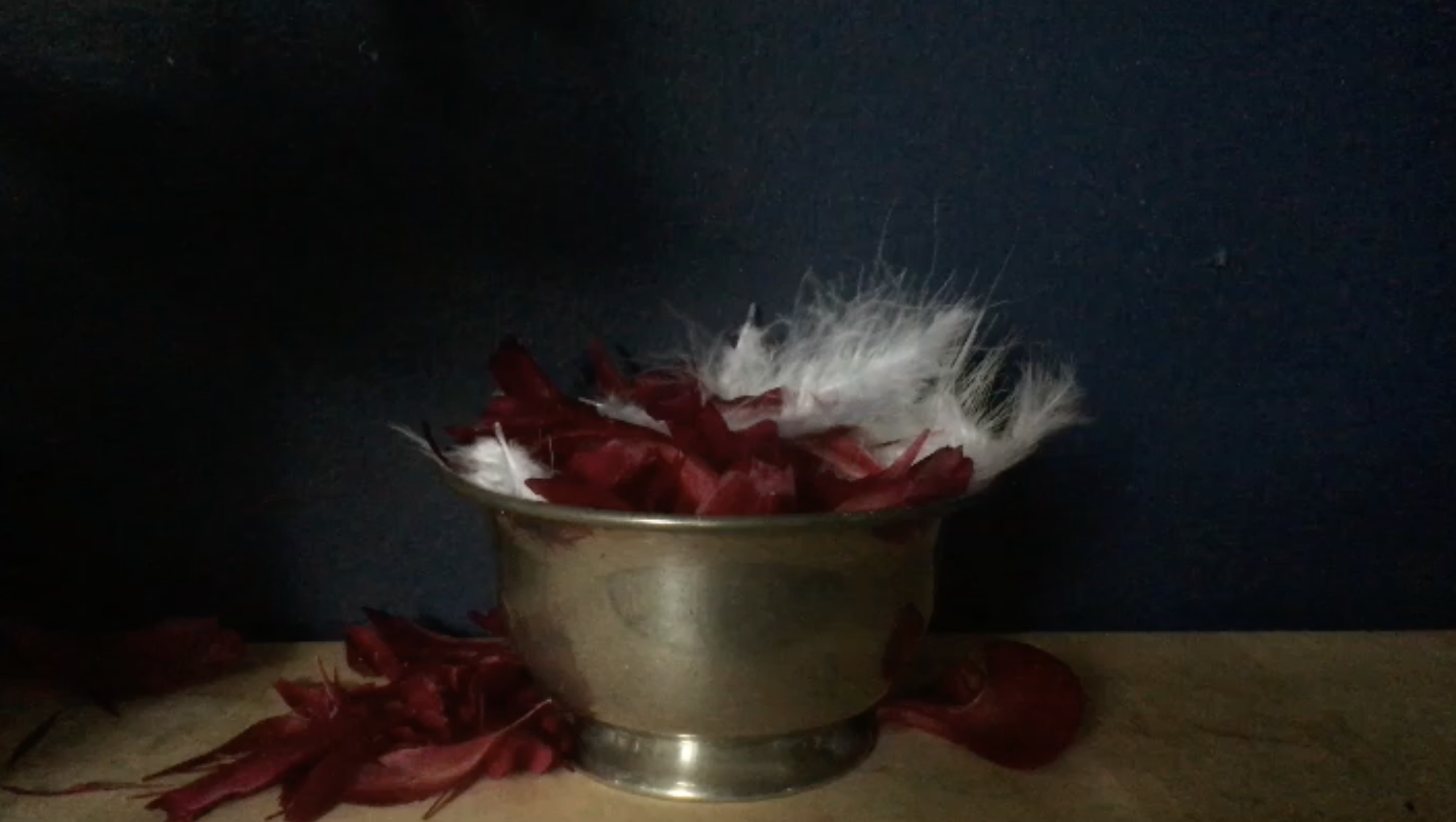 1.09 Untitled
Rachael Uhlir
A weave of voids designed to hold
but a few selected things.
Most miss its joints and flow away.
Those held we will consume.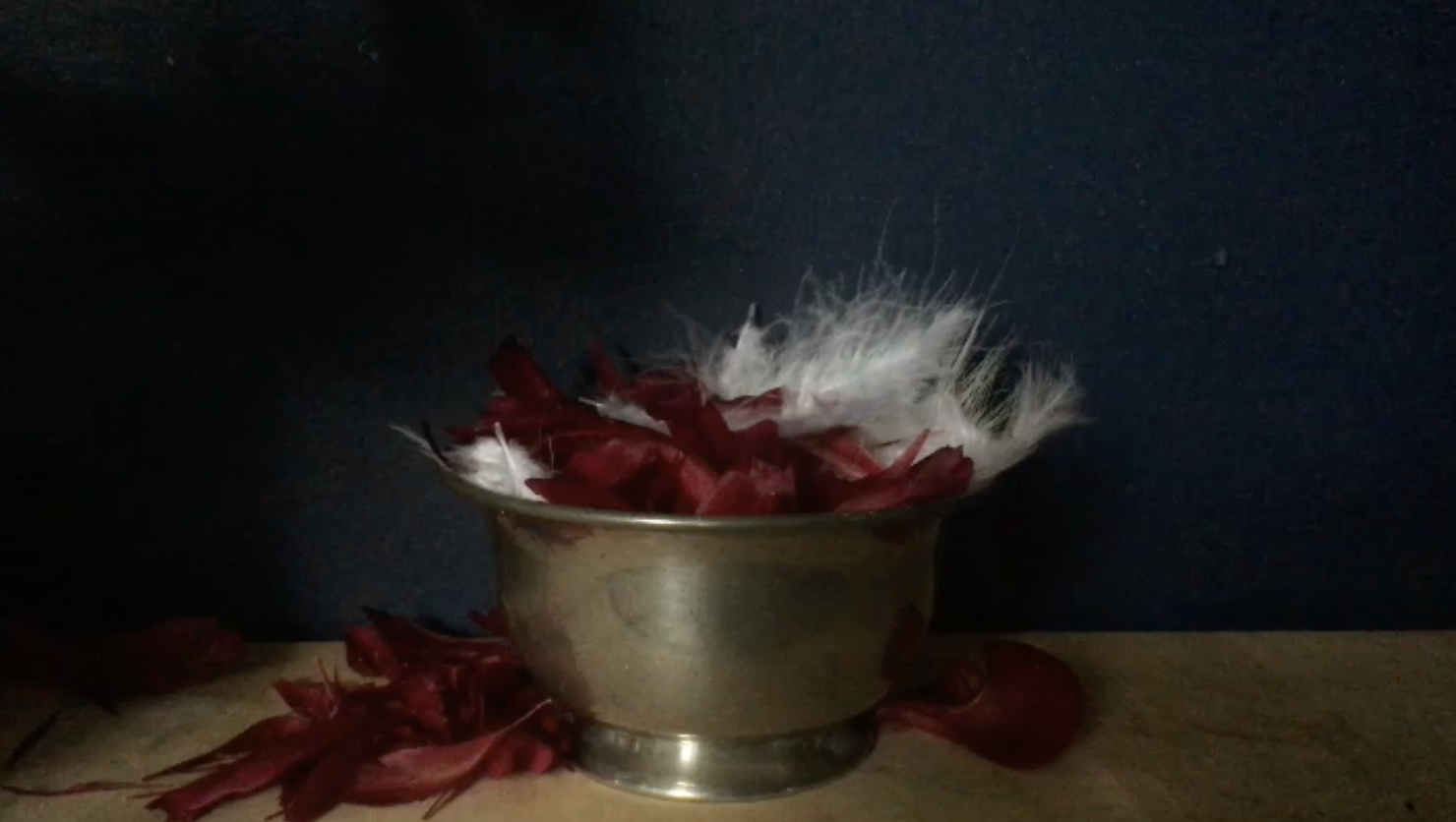 1.10 Fire Hands
Estefania Puerta
We Begin in Humility
If I were to tell you that wind sits between slits of your ribs, you would tell me that the sand was then made of the marrow beneath my feet. The marrow beneath my feet is made of sand. Sand makes marrow feet.
I know that the breeze has a lot to do with both of these transgressions.
How Am I Not Myself is a constant material investigation into knowing exactly How I Feel Without The Other.
Yes, it is a world filled with sorrow.
I cannot read the news anymore.
I cry before thinking.
My throat feels like a trap.
My trap feels like a throat.
Feel like a throat trap.
Trap the throat that feels.
I don't know how to put into words the weight we cannot capture in cloth. There is a small distance between the leaping figure and the steady earth, are they flying away or running away? Are they holding or being held? Is it ok to be simple in gestures towards the wind? Why can't I simply say the words that tell you how weight cannot be captured in cloth? How much can I hold in my empty hands?
Sin peso que es la ternura de carne besando aire?
I know that skin is stretched and tethered but I also know that that history is fraught with terror. I am sick to my stomach these days in knowing the weight of skin.
I am sick to my stomach in knowing
The weight of sand
Weight of wind
Weight of distance
Weight of empty hands
Weight of gesture
Weight of tears
Weight of arms stretched out toward a blue sky
Weight of words
La enferma te cuenta sin saber el cuento
Is the figure unfurling towards a hungry mother or fleeing from an angry flock?
Does the figure lick their wounds in heavy quivers or expel spastic shouts to their drunken livers?
Is despair a worthy object to hold? To look at it through metaphor and playful salutation? Can we make a parachute out of its weight? Carve new worlds that destroy the state?
How long do we have to wait?
No te puedo decir como sufrir solo que tengas un hueso hacia la luna